 Survival Aids Ltd
Suppliers of military survival and combat equipment for the professional
British forces personnel should always be kitted out with the most effective survival and military equipment available in order to meet the often gruelling demands of training and deployment. From specialist survival products to combat equipment and uniforms, Survival Aids has focussed on meeting these requirements and we have established ourselves as one of the leading suppliers of military clothing, equipment and footwear for those serving in the UK's regular and reserve armed forces. As well as sending equipment all over the world to British Forces personnel wherever they may be deployed, we also supply contract equipment to many international armed forces. Survival Aids designs and manufactures uniforms and has supplied the armed forces of NATO member countries as well as supplying UK and international special forces groups. We are regularly contacted by theatre, TV and film production companies and have supplied equipment and uniforms for some very high profile films including James Bond, Pirates of the Caribbean and Mission Impossible. We have a wide range of products on offer that are designed to work effectively in real-world scenarios, ensuring you can operate at the highest levels during military or survival activities With such a diverse range of equipment suited to all kinds of military and survival needs, you are guaranteed to find what it is you're looking for. From genuine survival and military clothing to navigation tools, lighting, combat accessories, outdoor cooking, shelter, survival tools and even ceremonial products, we have everything you need to complete your military equipment collection. Our products are well known for being extremely high quality to provide for even the most experienced of military survival experts. We work closely with our manufacturers to ensure the products we provide to military personnel both in the UK and abroad are capable of maximising your potential in the field. Our wide range of military clothing, from thermal vests, camouflage t-shirts and combat shirts to windproofs, snugpak jackets and fashion shirts, is suited to all kinds of activities. Our military clothing range comes in a wide selection of colours and styles to suit your particular preferences, whilst we also have uniform fabrics available for customisation purposes. We supply shelter and sleeping equipment suited to professional survival activities, including multi-terrain shelters designed to offer camouflage and efficiency in all kinds of environmental surroundings. We provide both one and two man tents, along with reliable tent pegs, survival blankets, bivi bags, bungees, cords and tapes so that your camp is always fully prepared. With such a wide range of products available here at Survival Aids, we make the most of our essential knowledge and expertise regarding both military and survival clothing and equipment to provide weekly featured products that you can confidently invest in. Whether it's a helpful navigation tool, a handy combat accessory or something to enhance your survival techniques, we will offer you weekly recommendations from the stock we have available. We also provide discounted offers to those who are seeking a handy bargain in our clearance zone, so check back to see the high quality products that are going for a cut price every now and then. For more information, visit the
Contact Us
page and we'll provide you with all the information you need regarding our services here at Survival Aids.
... Read More
With the help of Survival Tech,
Helikon Tex
have bought back the classic design E & E pouch. Sporting an updated British Special Forces design this Escape and Evade pouch is bound to be a new favourite in the forces. [caption id="attachment_1955" align="alignnone" width="810"]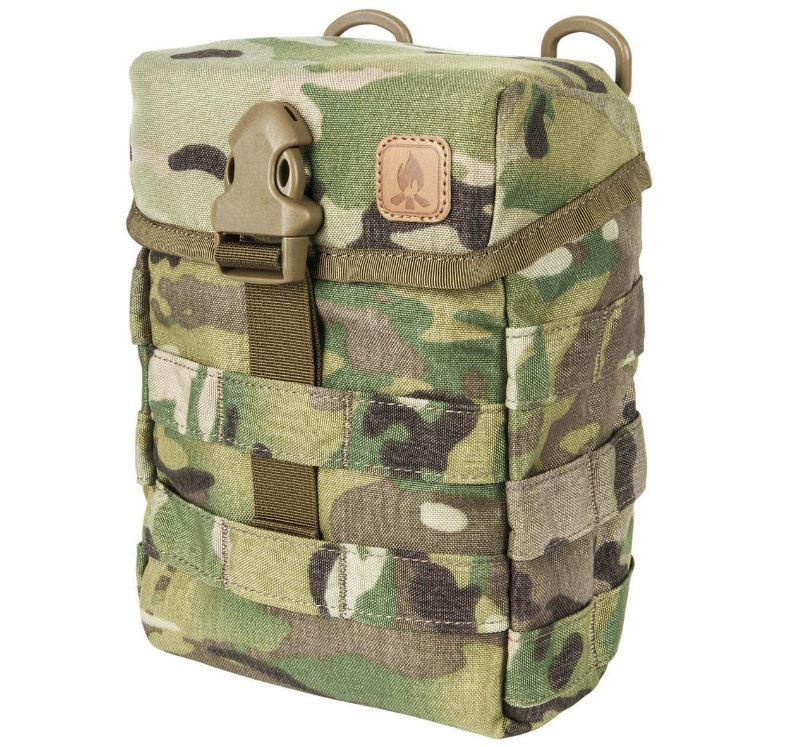 Multicam Escape & Evasion Pouch[/caption] Having been manufactured by 
Cordura
; a brand with over 50 years experience in making high performance gear; you couldn't get more durable a pouch. Intended for carrying
survival supplies
and
bushcraft gear
this tactical pouch has been produced in Genuine Multicam for uniform compatibility. [caption id="attachment_1956" align="alignnone" width="1500"]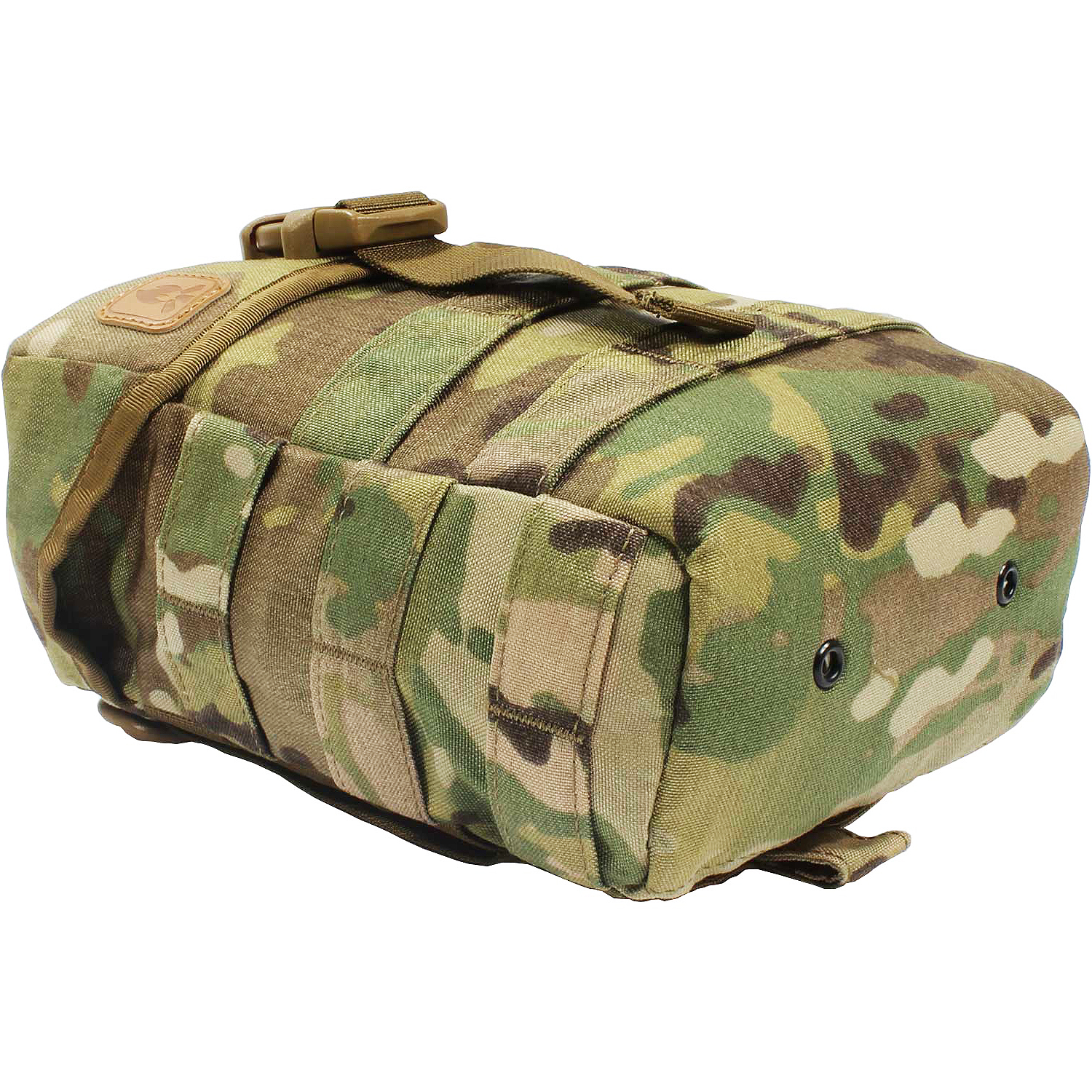 Breathable Cordura Fabric[/caption] The base features two drain rivets which allow the pouch to dry from the inside. You can keep the contents inside locked into place by securing the inner velcro panel and cord loop. The outer lid can then be secured using the buckle and the cord pulled tight to eliminate rattling. [caption id="attachment_1962" align="alignnone" width="1500"]
Heavy Duty MOLLE/PALS Attachable Straps[/caption] The
Helikon Tex utility pouch
intergrates a sheath on the back which can securely hold a folding saw, knife or axe. Not only does it have storage on the back but it also hosts three pockets inside the pouch for compartmentalising your military gear. You can also see in the photo above two plastic D-loops that can be used for hanging the pouch or even for adding your own shoulder strap to. [caption id="attachment_1966" align="alignnone" width="1500"]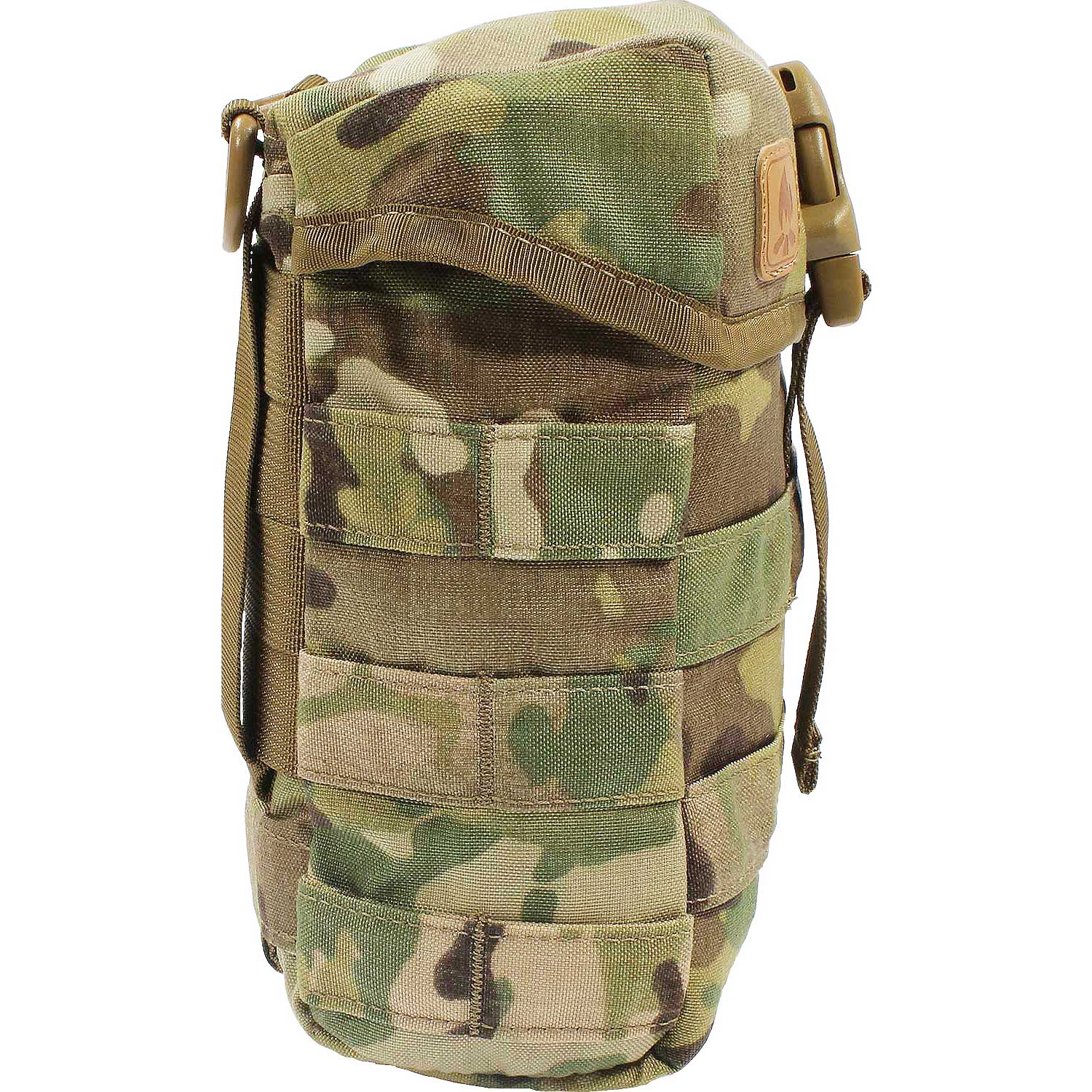 Secure Buckle Closure[/caption] What we love about this
mtp molle pouch
 is it's quality finish. You needn't bother worrying if it'll stay attached to your webbing as the molle straps are thick and excellently stitched. With a price tag of
£27.95
this pouch is undoubtedly built to last. Fits 58 pattern water bottle and crusader mug or mess tins and more. Size- 19.5cm by 15cm by 7cm. Weighs- 220 grams. Contains public sector information licensed under the Open Government Licence v3.0.
The New Escape & Evasion Pouch for Military Professionals
2017-08-10 08:35:14
Created for military professionals who regularly communicate using their
touchscreen mobiles
. Mil-Tec's smartphone gloves are constructed with a polyester/elastane blend making your
touchscreen gloves
lightweight and adaptable. [caption id="attachment_1914" align="alignnone" width="1200"]
Mil-Tec's smartphone gloves[/caption] Keep your hands warm in the field while you utilize the touchable fiber tips on the glove. Save time while you choose applications and send messages on your
smartphone
. As you can see below these
phone gloves
host the touch screen fingertips only on the thumb and pointer finger. [caption id="attachment_1915" align="alignnone" width="1200"]
Touchable fibre tips[/caption] The palms have been manufactured with softened, ventilated cowhide fabric with moisture blocking properties. This means your 
phone compatible gloves
 won't allow sweat to build keeping your hands comfortable and dry. [caption id="attachment_1913" align="alignnone" width="1200"]
Velcro closure cuff[/caption] Despite being super lightweight at only 58 grams, these
tech gloves
are suprisingly strong. Not only does the material tailor to your hands but the added velcro closure keeps them secured to your wrist. Available in sizes Small to XXL. 
[caption id="attachment_1916" align="alignnone" width="1495"]
Mil-Tec Combat Touch Gloves[/caption] For only £8.95 get yourself some
touchscreen compatible gloves
today.
2017-08-03 14:16:26