See our latest new military products... Survival Aids Ltd
Suppliers of military survival and combat equipment for the professional
British forces personnel should always be kitted out with the most effective survival and military equipment available in order to meet the often gruelling demands of training and deployment. From specialist survival products to combat equipment and uniforms, Survival Aids has focussed on meeting these requirements and we have established ourselves as one of the leading suppliers of military clothing, equipment and footwear for those serving in the UK's regular and reserve armed forces. As well as sending equipment all over the world to British Forces personnel wherever they may be deployed, we also supply contract equipment to many international armed forces. Survival Aids designs and manufactures uniforms and has supplied the armed forces of NATO member countries as well as supplying UK and international special forces groups. We are regularly contacted by theatre, TV and film production companies and have supplied equipment and uniforms for some very high profile films including James Bond, Pirates of the Caribbean and Mission Impossible. We have a wide range of products on offer that are designed to work effectively in real-world scenarios, ensuring you can operate at the highest levels during military or survival activities With such a diverse range of equipment suited to all kinds of military and survival needs, you are guaranteed to find what it is you're looking for. From genuine survival and military clothing to navigation tools, lighting, combat accessories, outdoor cooking, shelter, survival tools and even ceremonial products, we have everything you need to complete your military equipment collection. Our products are well known for being extremely high quality to provide for even the most experienced of military survival experts. We work closely with our manufacturers to ensure the products we provide to military personnel both in the UK and abroad are capable of maximising your potential in the field. Our wide range of military clothing, from thermal vests, camouflage t-shirts and combat shirts to windproofs, snugpak jackets and fashion shirts, is suited to all kinds of activities. Our military clothing range comes in a wide selection of colours and styles to suit your particular preferences, whilst we also have uniform fabrics available for customisation purposes. We supply shelter and sleeping equipment suited to professional survival activities, including multi-terrain shelters designed to offer camouflage and efficiency in all kinds of environmental surroundings. We provide both one and two man tents, along with reliable tent pegs, survival blankets, bivi bags, bungees, cords and tapes so that your camp is always fully prepared. With such a wide range of products available here at Survival Aids, we make the most of our essential knowledge and expertise regarding both military and survival clothing and equipment to provide weekly featured products that you can confidently invest in. Whether it's a helpful navigation tool, a handy combat accessory or something to enhance your survival techniques, we will offer you weekly recommendations from the stock we have available. We also provide discounted offers to those who are seeking a handy bargain in our clearance zone, so check back to see the high quality products that are going for a cut price every now and then. For more information, visit the
Contact Us
page and we'll provide you with all the information you need regarding our services here at Survival Aids.
... Read More
THE WEAPONS THAT THE BRITISH ARMY USES
VIRTUS
Virtus is the Roman god of honour and military prowess, therefore it's no surprise that it is also the name for the new
British Military body armour
system that is being rolled out to many front line units. It has replaced the much heavier
Osprey
that has seen so much action over the last 10 years. With a new uncertain era unfolding for the British Tommy, new challenges, new international partners, and potential threats they needed an uplift in the kit to reflect their flexibility. The large scale wars in Afghanistan and Iraq (for us at least) are behind us now, all three services are re-examining their roles, many lessons have been hard-learned in the sands and the need for a more adaptable, modular, comfortable system of protection and carriage was long overdue. The Taliban used to refer to British Soldiers as tortoises, due to the absurd weight of the kit they used to carry around. When the boys and girls came under fire they'd hit the ground and it'd be bloody hard to get back up again. Harder still against an enemy that could hide in plain sight and were armed with flip flops, AK47s and
walkie talkies.
Speaking from experience, wearing
Osprey
and a full combat load of
belt kit
and
daysack
having walked across a wooden bridge in Helmand hearing bits of the bridge falling into the torrent below, it was a hair raising few minutes. Soldiers would shoulder 22KG of kit, many were knackered before the enemy had even fired a shot.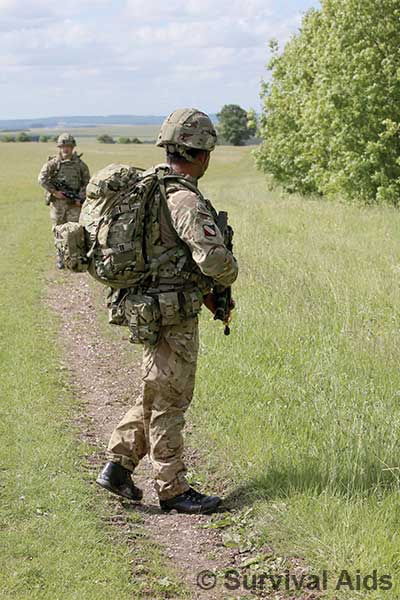 British Army body armour 
VIRTUS BODY ARMOUR
At the core of the Virtus system is the STV or Scalable
Tactical Vest
. When a soldier is fitted for it initially a measurement of torso length as well as the chest size is taken (instead of just height) there are 7 different sizes of STV. Wearers can use both ECBA plates and Osprey plates in Virtus which is a useful design detail. Virtus can be fitted for numerous different roles. If no ballistic protection is needed the STV vest (which takes normal
MOLLE fitted pouches
)
can be used as a simple load-carrying platform (before any hard or soft plates are added). Adding to this it is then fitted with a soft padded inner, made up of a composite granular material which turns it into a fragmentation vest. Soldiers can then add to this frag vest a series of the different front, back and side armour plates to make it a full-body armour system to suit the task at hand.
Full body armour system
The padded inner and plate carrier has a much lower profile and weight than
Osprey
so soldiers are freer to move and lighter on their feet. Another feature of Virtus is an integral spine called a dynamic weight distribution system. This is attached to the
battle belt
and can be attached and detached when needed. It serves to spread the weight of the soldiers load more evenly over the hips and shoulders.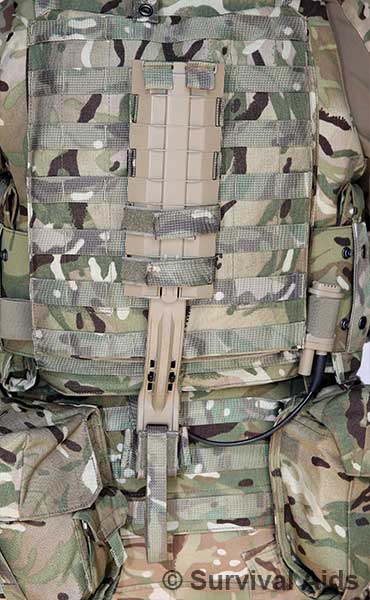 A dynamic weight distribution system
VIRTUS HELMET
The
helmet
is a full 350g lighter than the Mk 7 that it replaces, it has been designed in such a way that it's easier to fire from the prone position, which has always been an infuriating feature of
helmet
design before. It has enhanced protection at the sides, comes fitted with a permanent fitting for night sights on the front and when wearing NVGs even has a counterweight on the back to balance the load.
Virtus Helmet
Front protection for the face comes in the form of a mandible and a visor with several different lenses for bright sunlight and night driving. The mandible makes the helmet looks quite futuristic, but it's a sensible addition bearing in mind the new range of combat vehicles HM Forces now owns post-Afghanistan. The next generation of soldiers is going to spend more time behind the wheel than their forebears. Virtus is a very well thought out system, ergonomically designed around the soldier to fit him/her and to provide optimum movement and protection. Time will tell if it is popular, the army is resistant to change and I know from initial inspection the Bergen to me look over fiddly with lots of zips, straps and pouches when all I really want is a
big bag
on my back that I can fill with bombs, bullets and
brew kit
.
GLOCK 17
The Glock 17 has just entered service, 25,000 have been purchased and soldiers were being trained upon it before deploying to Afghanistan in Oct 2013. It replaces the trusty Browning Hi Power 9mm which has been in service for 40 yrs.
Glock 17
Austrian engineer Gustav Glock built his pistol using a high-strength nylon-based polymer called Polymer 2, it is sometimes referred to as the "plastic pistol", there were concerns initially that it would evade metal detection as well as not being robust enough. Glock 17's frame, magazine body and several other components are made from Polymer 2. The pistol's 9mm rounds feed from staggered-column or double stack magazine, that have a 17-round capacity (hence the name) it can be fired left or right handed. Range: 50 metres Calibre: 9 mm Weight: 32 oz / 907 grams Mag Capacity: 17 rounds magazine Safety: The Browning 9mm had a conventional safety catch, the Sig 226 (used by UK SF) had a cock de-cock mechanism and the Glock has its own peculiar safety. Gustav Glock designed the "safe action" system which consists of a thin bar resembling another trigger within the weapons actual trigger. Unless the firers finger is firmly placed/committed to taking the shot it's unlikely to function.
THE L129A1 SHARPSHOOTER / SNIPER RIFLE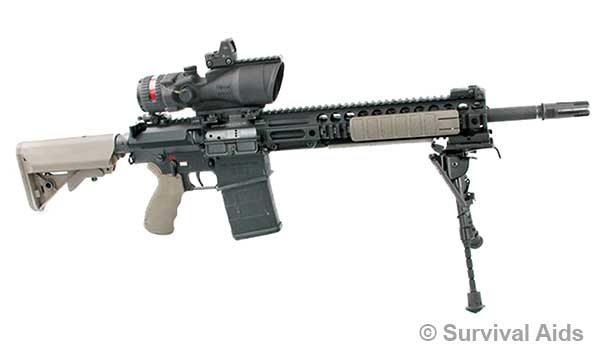 L129A1 Sharpshooter / Sniper rifle
The L129A1 Sharpshooter / Sniper rifle was born from the urgent requirements that came from the British Forces deployed to Afghanistan. The Taliban had a tactic of engaging convoys and foot patrols from stand-off ranges of 500 meters or more using 7.62mm rifles and machine guns. 5.56mm weapons such as the SA80, LSW and Minimi LMG were found to be ineffective at these ranges and a UOR was issued for a semi-automatic rifle, chambered for 7.62 x 51 NATO ammunition, which is capable of engaging individual targets out to 800 meters. These rifles are intended for use at section and platoon levels. Calibre: 7.62mm NATO Operation: Gas operated semi- automatic Weight: 4.5 kg Length: 900-990 mm Barrel length: 406 mm / 16" Feed: 20 Rounds detachable box magazine The Sharpshooter / Sniper rifle is a gas-operated, semiautomatic weapon, fitted with ambidextrous controls (safety and magazine release) at the end of the barrel is a surefire flash suppressor. Fitted with a 20 round magazine and a Trijicon ACOG 6 x 48 telescopic site, as well as additional folding back-up iron sights. All sighting equipment and accessories, such as a folding bipod, quick-detachable sound moderator (silencer) or a 40mm M203 UGL are attached using the Picatinny rail system.
M4 SUPER 90 COMBAT SHOTGUN
Semi-automatic, fires a 12 bore shot/shell cartridge and is fitted with a detachable Eotech Sight (for use by day or night) which sits on a standard Picatinny rail. It has an iron sight and a telescopic 3-position extendable buttstock.

M4 SUPER 90 COMBAT SHOTGUN
The shotgun can be fitted with a single point elasticated sling or the issue rifle sling and can be fired from any of the conventional fire positions. The section point man or lead scout assumes the first and most exposed position, often being the first to engage the enemy. The shotgun enables him to apply a quick rapid rate of fire over a large area. Commanders must remember to rotate the LS due to the tiring nature of the role.
Cam and Concealment
Range: Solid shot: 130m Buckshot: 40m Length: 1010mm (extended buttstock) 886mm (closed buttstock) Weight: 3.8kg Magazine: 7 cartridges Calibre: 12 gauge (18.4mm)
SA80 MK2, THE RIFLE OR IW (INDIVIDUAL WPN)
SA80 A2 comprises the Individual Weapon (IW) and the Light Support Weapon (LSW) the army's standard combat weapons. It has been modified in light of operational experience, a Picatinny rail has been added around the barrel, enabling the attachment of
torches
, grips and sights.
SA80 A2 Rifle 
Calibre: 5.56 mm Weight: 4.98 kg (loaded mag, optical sight) Length: 785 mm Barrel length: 518 mm Feed: 30-round magazine Effective range: 400 m
Sights
SA80 can be fitted with a range of sight systems (1) SUSAT sight (2) Iron Sights (3) Common Weapon Sight (CWS) also known as the Kite Sight which amplifies ambient light (4) ACOG x 4 magnification sight with an Eotech sight above the optic.
ISW weapon military gun
The adoption of
5.56mm
ammunition after lessons learned during the Falklands conflict, enabled soldiers to carry more rounds than 7.62mm of the old SLR, it has a smaller recoil than 7.62, and thanks to this is more accurate but it does lack the "man dropping punch" of 7.62. It was felt that the section lacked a firepower element hence the introduction of the Minimi LMG.
SA80-A2 WITH UGL
The SA80 Underslung Grenade Launcher (UGL) is an H&K 40mm grenade launcher. Infantry sections get one per fire team, enabling accurate firing of 40 mm grenades, both HE and frag out to 400 metres.
SA80-A2 with Underslung Grenade Launcher (UGL).
Also fitted with the Wilcox Rapid Acquisition Aiming Module (RAAM UGL-FCS). A motorized gimbal housing visible and infrared laser pointers automatically articulate to indicate the proper weapon elevation necessary to match the trajectory of 40mm grenade in flight to hit its intended target.
MINIMI LIGHT MACHINE GUN (LMG) 5.56 MM
is a 5.56 mm, gas-operated, air-cooled weapon, capable of fully automatic fire only, it can be both belt and magazine-fed with STANAG link and magazines.
Military Gun MINIMI MG
Should the gunner run out of linked ammunition, magazines can be used, however, malfunctions can occur because the magazine spring has difficulty feeding rounds quickly enough to match the Minimi's high cyclic rate. A folding bipod is attached near the front of the gun, and it has a quick-change barrel, it's relatively lightweight (7kg to the GPMG's 14 calibre kg) provides the section with the heavy volume of fire of a machine gun, combined with accuracy and portability approaching that of a rifle.
---
HEAVY MACHINE GUN (HMG)
Heavy Machinery Gun
The powerful L1A1 12.7 mm (.50) Heavy Machine Gun (HMG) is an updated version of the Browning M2 'Fifty-cal' - recognised as one of the finest heavy machine guns ever developed. The HMG provides integral close-range support from a ground mount tripod or fitted to a Land Rover using the Weapon Mount Installation Kit (WMIK) and a variety of sighting systems. The performance of the HMG has recently been enhanced with a new 'soft mount' (to limit recoil and improve accuracy) and a quick change barrel (QCB). Calibre: 12.7 mm Weight: 38.15 kg (gun only) Length: 1,656 mm Feed: 50-round disintegrating belt Effective range: 2,000 m Rate of fire: 485 - 635 rounds/min The HMG provides the commander with added capability at greater ranges (1500-2000m) when support from armoured vehicles is not available. The HMG should never be fired while the vehicle is moving because accuracy can be affected due to the movement of the vehicle.
THE L7A2 GENERAL PURPOSE MACHINE GUN (GPMG)
The GPMG aka: "the general, the gun or the jimpy" is a 7.62 mm belt-fed general-purpose machine gun.
General Purpose Machine Gun
Calibre: 7.62 mm Weight: 13.85 kg (gun plus 50-round belt) Length: 1,230 mm (light role) Feed: 100-round disintegrating link belt Effective range: 800 m light role, 1,800 m sustained fire role Rate of fire: 750 rounds per minute In the SF role, mounted on a tripod and fitted with the C2 optical sight, it is fired by a two-man team who are grouped in a specialist machine gun platoon to provide battalion-level fire support. In SF mode, the GPMG, with a two-man crew, lays down 750 rounds-per-minute at ranges up to 1,800 meters. The GPMG can be carried by foot soldiers and employed as a light machine gun (LMG), although it has largely been replaced by the lighter 5.56 x 45mm Minimi in this role in most regiments.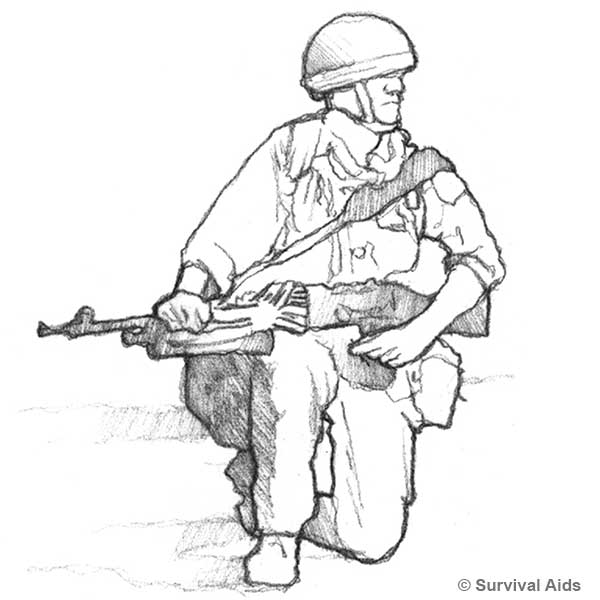 The Gimpy Gunner
A fold-out bipod is used to support the GPMG in the LMG role. Versions of the GPMG are mounted on most army vehicles and some helicopters.
GRENADE MACHINE GUN (GMG)
The Heckler & Koch 40mm Grenade Machine Gun (GMG) provides unrivalled infantry suppression, combining the best characteristics of the heavy machine guns or light mortars, usually employed in this role.
Medivac chopper 
Conventional rifle ammunition provides no fragmentation effect and is largely not effective enough against advancing armoured infantry fighting vehicles and battle tanks. On the other hand, mortars have the disadvantage of a relatively low rate of fire. Rate of fire: 340 rounds per minute Range: 1.5 km for point targets, 2km for area cover Ammunition: 40 mm high velocity and high explosive grenades The GMG combines the advantages of both of these two types of weapons delivering high flexibility and firepower combined with the fragmentation effect of mortar ammunition. The GMG is normally mounted on WMIK (weapons mount installation kit) or the other vehicles in the TSV family, but it can also be dismounted and used from a ground-based tripod.
L115A3 LONG RANGE RIFLE
The L115A3 rifle is part of the sniper's system improvement programme (SSIP). It fires an 8.59mm round, which is heavier than the 7.62 round of the L96 and less likely to affected by wind over long ranges. It is equipped with telescopic day and night all-weather sights, capable of first-round hits at 600 metres and harassing fire up to 1,000 metres. The L96, however, is by no means obsolete and will often be found carried by the number two in order to engage closer more opportunistic targets.
L115A3 Long Range Rifle
Other improvements in the SSIP included:
a. The day scope magnifies targets up to 25 times allowing the sniper to identify targets more easily. b. Folding stock reduces the length of the weapon, so it can be carried in a bergen or daysack. c. Adjustable cheek piece for more comfortable alignment. d. Suppressor reduces flash and noise, increasing survivability. e. Adjustable Bi-pod supports the rifle in a set position for easier target location. f. 5-round magazine allows the sniper to fire 5 rounds rapidly while being small enough not to interfere with the alignment.
Improvements on SSIP 
L16A2 81MM MORTAR
Is a battle group level indirect fire weapon which is capable of providing accurate high explosive, smoke and illuminating rounds out to a maximum range of 5,650m.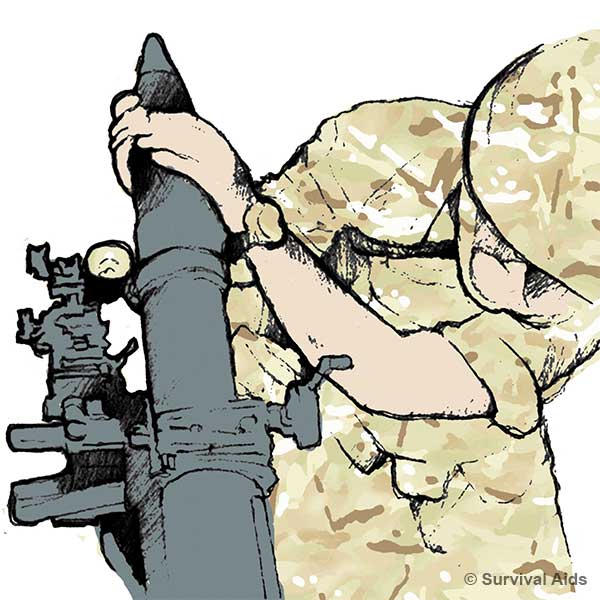 L16A2 81mm Mortar
The mortar platoon in mech. and Armd Inf Bns are mounted in and fire from APCs, increasing its mobility and enabling rapid disengagement and movement. It can be man-packed, in three loads each approx 11 kg (barrel, base plate and bipod with sights) ammunition carried by the rest of the Bn - each man carrying two greenies (double plastic containers, total four bombs) in addition to his normal equipment, but this is pretty unpleasant for all involved (especially the carrier of the bipod) and is generally avoided. Weight: 35.3 kg Barrel length: 1,270 mm Crew of : 3 Shell weight: 4.3 kgs Caliber: 81 mm Rate of fire: 1-12 rpm sustained, 20 rpm in exceptional circumstances and for short periods. Effective range: HE: 100-5,675 m Illumination: 400-4,800 m smoke: 100-5,675 Maximum range: 5,650m (HE) Sights Optical: (C2) with Trilux illumination The infantry transports it normally by a vehicle or helicopter and assembled for firing from the ground.
THE LIGHT ANTISTRUCTURES MISSILE
LASM
is a single-shot, unguided rocket, housed in a telescopic launcher, a one-shot system discarded after launch. LASM is smaller and lighter to carry than the 84mm ILAW. Similar in appearance to the LAW 66, the main difference is the LASM's larger warhead, 1kg of enhanced explosives compared to a third of a kilo found in the 66.
Anti Structured Missile
LASM uses it's kinetic energy to penetrate the outer walls of a structure before the high explosive warhead detonates inside, in plain English a "break in charge followed by a follow up bomb"
"kinetic energy of an object is the energy which it possesses due to its motion"
The sight system, rear/foresight "pops up" when the launcher is extended, in preparation for firing. Spring-loaded fins deploy on firing to stabilise the rocket in flight. The LASM is very similar to the M72 LAW 66mm rocket launcher. While the LASM is effective against light armour and soft-skinned vehicles, its primary use in Afghanistan is against fixed positions, bunkers and other buildings. Range: 250 m Weight: 4.3 kg Length: 0.775 m Firing length: 0.98 m Prep time: 8 seconds
JAVELIN
Javelin is a man-portable medium range, anti-tank guided weapon, replacing Milan. It has a tripod (for firing and observation) and has longer range, greater lethality, more powerful all-weather, day/night optics and a lighter load for the infanteer than Milan.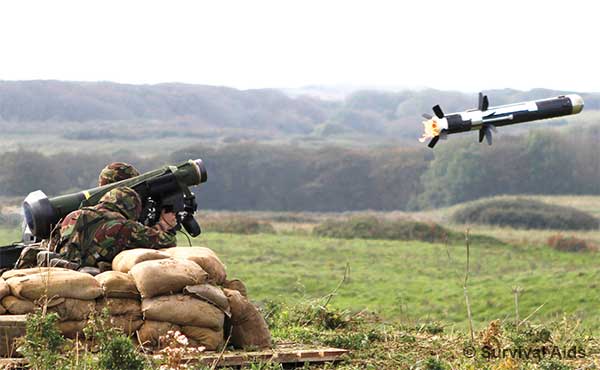 Javalin Military Weapon
Designed initially to destroy tanks and AFV, javelin is also employed against fixed defences, bunkers and buildings. The system allows the firer to lock-on the target, fire and 'forget'. So as soon as the missile is launched, the firer can move on, switch targets or move position. javelin has a maximum range of 2500 m. Javelin adopts a top-attack flight profile against AFV (attacking the top armour which is thinner) and a direct-attack mode for use against buildings or fortifications.
Javelin Clu Weapon
The missile itself is a tandem warhead, fitted with two shaped charges, an initial charge to get through explosive reactive armour if it's fitted and the main warhead to penetrate the armour.
NLAW (NEXT GENERATION ANTI-TANK WEAPON)
NLAW is a man-portable, disposable, anti-tank weapon, a soft-launch system, allowing it to be fired from a window within a confined space without any backblast.
Next-Generation Anti Tank Weapon
The rocket is propelled out of launcher using a low power charge, it travels several meters before its main ignition kicks in which propels the missile to the target. Portable, night vision capable, short-range and fire-and-forget, NLAW was due to replace the British Army's LAW 80 system, as well as the ILAW (Interim Lightweight Anti-tank Weapon). Calibre: 115/150 mm Weight: 12.5 kg Muzzle velocity: Initial: 40 m/s Maximum: Subsonic Range: Minimum: 20 m Maximum: 600 m Attack Modes: OTA (Overflying Top  Attack) and DA (Direct Attack) Temperature range: -38 to +63 ºC The NLAW consists of a single missile sealed within a launching tube, main battle tanks, armoured fighting vehicles, troops in buildings and non-armoured vehicles can all be defeated by NLAW. It has an optional drop-down lightweight support arm to assist in aiming and can be bought into the aim and fired in under 5 seconds. NLAW is designed to be carried and fired by a single non-expert soldier, it is easy to handle and relatively soldier proof.
THE M72 LAW AKA THE 66
LAW 66 is a lightweight, one-shot, disposable rocket launcher, that is highly effective against soft-skinned vehicles and light armour, up to a range of 200 meters. 66s can also be used against bunkers or buildings, it is ineffective against MBTs, although in skilled hands one could be used to disable the tracks.
The 66 lightweight rocket
The weapon consists of a rocket inside two tubes, one inside the other, the launcher extends to just under 1 meter when ready to fire. The outer tube contains the trigger, the arming handle, front and rear sights and acts as a water-resistant container for the rocket. The inner tube houses the firing pin assembly, including the detent lever. When fired, the rocket propels the 66 mm warhead forward without much recoil. As the warhead emerges from the launcher, six fins spring out from the base, stabilizing its flight. LAW uses a piezoelectric fuse system, on impact crystals in the nose are crushed causing a micro-second electric current which detonates the warhead. Upon impact, the main charge functions and forces the copper liner into a molten slug, that in relation to the size of the warhead is capable of the massive amount of penetration. Basically a flying EFP. Weighing just 2.5kg and with a carrying length of 0.67 meters, the LAW is designed to be carried slung over the shoulder.
A Guide To British Army Weapons
2019-08-19 16:27:48
IN THE FIELD
For all the technology at the military's disposal, now or in the future, there will still be soldiers on the ground, living out of
bergens.
Living out of a
bergen
for long periods can wear you down and arduous training, insufficient rest and the same
rations
, all takes their toll. Therefore learning essential skills for fieldcraft and the equipment needed will help you feel more prepared.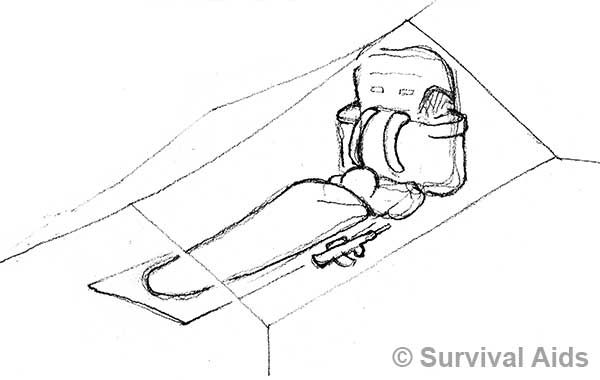 British army weapons
It is like any other military skill, you get better practice, you don't need mountains of kit, use what you have sensibly, improvise, learn from others, and have multiple uses for things.
MULTIPLE USES
Most things you carry, can have two or three uses, it pays to experiment, being wet and uncomfortable won't kill you, you shouldn't fear it. It doesn't hurt to be uncomfortable occasionally, we're constantly learning and a bit of clever kit prep can sort it out.
Your bergen
contains much of your kit, sit on it when you stop for a breather, use it as a windbreak at one end when you're in your basha, in open ground take cover behind it. Grab the patrols
bergens
together to form a raft for a river crossing or take a casualty across a river. That one simple item has numerous uses if you use your imagination. Take this approach with all you kit, cut down on all the useless junk that people cart around for no reason. Before you pack your
bergen
check all the clips, zips and
buckles
, they can break with careless use and make carriage extremely uncomfortable. Reinforce the attachments on your bergen with doubled up
para cord loops

,
eg: where the shoulder straps attach to the main body, these straps can fray and break. Place a network of
bungees
on the back of your
Bergen
, for attaching items such as your
helmet
, you can get nets with clips as well which are sturdy and very useful.
"Use what you have sensibly, improvise"
Cable ties
have multiple uses, you can get them from any hardware store, they make good improvised 
handcuffs
 for detainee handling, securing kit to wagons, tethering masts, constructing OPs along with numerous first aid, applications. They can be released and reused again by applying a point of a
pen knife
or pencil/pen to the teeth. Loop a few into your belt kit or ops vest. You never know when you might need them.
Wrap your lighter in masking tape
, useful for making emergency repairs to kit, and in an emergency you can screw it up in a ball and it'll burn for up to 30 mins, which will provide a useful light source, but make sure the areas well ventilated.
"if your not using it in the next 30 seconds, stow it away"
Your bivvy bag
, as well as keeping your
sleeping bag
dry, can be used as a survival shelter in extreme temps. Take a small tin with a honeycomb of cardboard impregnated with candle wax, light this, sit cross legged over it, placing your
bivvy bag
over your head/body and it will provide warmth well beyond its size and weight. The flame can be extinguished by popping the top back on, and for an hour or so until it cools down makes a great hand warmer. Have a spoon in your pocket, one in your
belt kit
, and one in your
Bergen
, they weigh nothing but forgetting it is common and a pain. Check your
compass
before you deploy, if it's got a bubble in it, exchange it, if the Q bloke tells you to do one, then swap it with your locker one. You should always have a spare in your
bergen
in your admin pouch.
Our hands take a real hammering when we're in the field, after a few days the skin cracks and infection gets in. In places like Afghan where sanitation in poor, dust can be largely made up of dried human excrement. You really don't want that in your blood stream. Carrying out searches and rummaging can lead to sharps injuries, so always wear
gloves,
and don't cut the fingers off, they are there for a reason. Protect yourself.
CHANGING SOCKS
Change them one foot at a time, boot off, wet sock away, dry and powder foot, dry sock on (goretex
sock
on if you're static for a period, but remember to remove them when you resume the patrol) boot on,
lace up
, if you're bumped you only have to pop one boot on and scarper. You should have your
boots
on in your doss bag, pop
sand bags
over them to keep it clean inside, clean mud and leaves off before you get in.
WOOLLY HAT AND GLOVES
Keep a spare set of
woolly hat
and
gloves
in your admin bag, they are instant morale, when you're static put your dry on, try and dry out your wet. Then put your wet back on and stow your dry, it's hard to do when it's gibbering, but you'll degrade if you allow all your kit to get drenched, you won't last long.
WET/DRY DRILLS
This is one of the most unpleasant things in training, but if you can keep a set of dry kit in your
bergen
, you can operate for long periods. If your dry kit is wet through, then it can be a drain on morale carting it around. Before you get into your doss bag, get carefully into your dry kit, make sure you don't get it wet. Place your wet kit under your
bivi bag
, as this is where most of your body heat will be transferred.
Soldiers Kit socks
Dry your wet
socks
by ringing them out and placing them inside your
trousers
with the tops hooked over your
belt
, powder and dry your feet before you put dry
socks
on. If you have them put gortex socks on then put your boots on, clean the mud/leaves off your boots, then place each one in a
sand bag
, you should always have your boots on in your bag, unless told otherwise.
IN YOUR BASHA
A good item to invest in if you're hell bent on spending your own money is a good
basha
they're not expensive and you can get a decent sized one this is a really useful idea and can mean that you don't have to splash out on an expensive tent, however a
tent
is a must if you're planning a long stay out of doors, it's called emergency basha for a reason.
Emergency Basha
Always make the effort to sling a
basha
up, not doing so is just lazy, it might not be raining when you get your head down, but it's rubbish waking up in the rain, your mates are tucked up, snoring contentedly, and you've got to get out "in the rain" and put one up. But there's always the option to put one up between two. There are two types of
bashas,
good ones that keep you dry, and rubbish ones that flap (noisily) and leak. Take an extra 5 mins to put up a good one, if you're a student of the school of "if you can't do knots, do lots" this won't help you in the cold dark morning when you have to take the bloody thing down, and can't undo them. You might be tempted to just snap it and deal with it later, but you'll be leaving signs and you're shortening your basha strings each time.
Bungees
are commonly used but take care, a bungee in wet tired fingers, can slip free and take an eye out, and your mum gave you them and she only gave you two.
BASHA STRINGS
Chances are you'll have to erect your basha at night, so be prepared, throw a few up in day light and then do it one evening in the dark, or just close your eyes and feel your way. Time spent doing this now will save you valuable zzzzz time when you most need it.
Basha Strings
Loop string to all the brass eyelets, if you use two different types of string with different textures A for the roof and B for the corners (see diagram) you'll know in the dark what goes where. Things tend to miraculously expand after a few days in the field, so be realistic, don't pack everything in so tight that you can't get anything else in. If a mate goes down, you may have to share some of his equipment amongst you to lighten his load for a day or two.
Basha Strings Fieldcraft
Clean your equipment as best as you can before you pack it away, it always takes longer than you think to pack away your kit, so get up 10 mins early, and pack it as you hope to find it at the end of the day. Brush off all the twigs, leaves, mud and roll your basha up nice and neat, don't just stuff it in.
LIVING IN YOUR BASHA
Use your
bergen
as a windbreak at the head end,
belt kit
as a pillow, in a
bivi bag
you can shuffle down so your feet are outside to make some room for admin, then when you're done shuffle back undercover. You won't get much choice where you put your basha, you'll be placed in an area with an arc to cover, make the best of the spot you've got, make a sweep of your real estate.
Ponchos
can be used as improvised stretchers but it's not easy, it's hard to maintain a grip when you're carrying a casualty, tying a ball of rags/grass or stuff and slipping a cable tie around it will create a toggle that you can grab onto without it slipping out of sweaty fingers. It's advisable to carry a proper collapsible stretcher, but a poncho can be pressed into service. This technique is ideal if you're moving spoil from an OP or other stuff.
Poncho Grip Fieldcraft
PACKING YOUR BERGEN
Units may have a standard method for packing
bergens,
your bergen is essentially your home and should be organised in a straight forward way, the way I like to differentiate it is that main compartment is mine and everything else is the Army's. There's a more detailed look at this later.
Pack Your Bergen
GRAB BAG
At the top of your
bergen
beneath your top flap lives your grab bag, so named that you "grab it" if you (a) have to leave your bergen behind if compromised and are on your toes (b) have pre-packed it for a specific task and will return to your bergen later. Grab bags contain mission essential equipment, the signaller will stow his
radio
, ancills, batteries here, as will the medic, dems man etc.. For the rest of us it can be used to extend our durability. We can live off our belt kit for 24hrs, with a grab bag on our backs, containing warm kit, goretex top, another 24hrs rations, other patrol kit, ammunition, knee pads, we can go on a bit longer.
SMOCK AND TROUSERS
Windproof Smock
Windproof Smock: 
All buttons taped up with sniper tape

Hold

Whistle
Replace cord with bungee
A small torch, head torch, lighter, matches in other pocktets
Don't cut off the hood drawcord, use the Swedish hood method
Windproof Trousers
Invest in a decent riggers belt
Carry spare buttons in your housewife, but double stitching all your buttons will ensure they don't pop off

Maps

on lanyard
Even with kneepads, trousers wear away at the knee, sew an extra double thickness layer for a bit of extra durability.
Velcro fasteners on your pockets stop things falling out
Med kit, have all in a bag with a drawcord, rather than loose, if you need to you can chuck it to someone who needs it.
Pre-sew elastics into your ankles
Map Reading Torch
replace the cord with bungee, always have it attached to your smock, red light is no good for map reading, it masks the contour lines. Maintain light discipline by taping up the front with
sniper tape
and making a small pin-prick hole, practice this technique.
Torch Light Field Craft
ADMIN BAG
When the Section Commander has sorted out all the stags, it's time to administer yourself, battle
clean your weapon
, get a brew on have some scoff, dry socks etc... Just under your grab bag, on top of your main compartment lives another smaller shoulder bag, your admin bag, whip this out sling it over your shoulder, so if you have to run it's coming with you.
Admin Bag MTP
In here you'll find your
stove
,
fuel
,
food
, spare
laces
and lighter, your personal
med. kit
(for small wound repair, wet wipes, antiseptic cream, plasters, head ache tablets, anti-inflammatory pills, tiger balm etc.) spare batteries for your torch,
spare compass
(your maps will be either in your hip pocket, or in the top flap of your bergen), spare
woolly hat
and
gloves
, foot powder. The only thing on the floor should be
cooker,
which will be lost if you have to leg it in a hurry.
Your unit SOP's will dictate what you carry in your belt and each mission will mean changes, this is an example of the sort of common rig that you can build on.
Belt Kit Fieldcraft
Using your
belt kit
as a pillow aids a good nights kip, and it'll be to hand if/when you get bumped, other useful things to have on you, secateurs, folding
saw
, speed loader, spare muzzle covers,
knife
.
Your belt kit can hold - 
Comms cord in pouch, on fishing reel type spool
Velcro mag pouches 3 x mags each (mags at the rear can sometimes be difficult to get out in the prone)
Survival pouch, metal mug, lighter tin, candle, brew kit, hexi, 3 x nails, 24 hr rations, heli marker panel
Med pouch
Smoke
Grenades
SCOFF / RATS / SCRAN
The same food day after day can be dull, and get on your nerves, anything you can do to improve it is worth a little extra weight. Tobasco sauce, curry powder, sticky bars can all be a little bit of home or change a dull meal into something different. And "change is as good as a rest" they say. The Swedes have got paring their kit down to the bare essentials, down to a fine art, invented in Sweden the folding
mug
weighs a few grams, it folds down to half its size when not in use, and is pretty solid when full. Keep one in your smock pocket.
Swedish folding mug
A great bit of kit, but they should be used only in an area where you're far from the enemy, you can sometimes forget that it's on your head, and you shouldn't rely on it, know your Bergen and belt kit inside and out, a soldier emptying his kit all over the floor looking for one small item is a pitiful sight.
Cleaned out and sterilise every so often, leaving them with a little water in them for months in your locker and them pressing them straight into service can make you very ill, a friend of mine trained months for a race, and on the day used a
camel back
from his locker, he lasted an hour having to retire from the race with a very bad tummy!!!! What a waste of effort.
SWEDISH HOOD
Putting the hood of your smock completely up will impair your peripheral vision, and affect your hearing, put it up only in rear areas. The Swedish military who have to tackle harsh winter temperatures are experts in retaining all body heat. And have a method of using the hood.
DROPPING YOUR BERGEN
Drop down on one knee and carefully lay it down, this will prevent you from making a noise and protect mission-essential equipment. When moving off, place your weapon on the floor use both arms to get your bergen on, or get your mate to help you on with it.
Bergen drop off
REMAIN TACTICALLY AWARE
Remember when placing your weapon on the floor never to move away more than arms reach from it, place it with the cocking handle uppermost, keep the muzzle out of the dirt and ensure that dust cover's closed.
Bergen
inside the main compartment you'll have a large canoe bag, this only needs to be folded over, it will keep dry. Seal it shut when you immerse your bergen on a river crossing. Constantly opening and shutting it makes a distinctive snapping noise which carries.
Spare maps water-proofed, needle and thread
Grab bag mission essential eqpt
Camel back water bladder
4 x Karabiners 2 each side for bergen raft
Admin bag food, rubbish bag, brew kit etc...
Bivi bag with your doss bag wrapped in it for added protection, you could also leave your foot kit in here, and a pair of trainers, in case you get the opportunity to get out of your boots for a bit. Admin
Spare clothes in a canoe bag - done up, it's at the bottom of your bergen as you'll only access it when you're either in a harbour area or in relative safety
PUTTING ON YOUR GORETEX
When it rains don't rush to get your
Goretex
on, if it's only a small shower it'll pass and the sun and wind will dry your kit out naturally, the beauty of mother nature eh? However, if it's a determined downpour and black clouds looming then stop and put it on. Don't put your hood up unless you're safely in a harbour area and somebody is watching on stag, the hood will cut down your peripheral vision. Always keep your top handy and packed above the bottoms, 9 times out of 10 you'll not need your bottoms, they make for uncomfortable going and are not good for tabbing in, they're a bad when crossing fences.
Goretex top and bottoms
are really handy is river crossing, stow all your dry kit in your Bergen and do the crossing in your top and bottoms.
Bergen packing field craft
KIP MAT
There are many types of
kip mat
, at the end of the day it's just something to lie/sit on. Inflatable ones get punctured, regardless of what the manufacturers say, and who can be bothered to repair it in the field, or even when you get home, when you know that its only a matter of time before it'll go again? If you're hell bent on not carrying the issue one (which is perfectly good) buy a simple folding one, if you are going to trim the issue one down, ensure that it's at least the length of your torso. By chopping it down you are not saving much space in your Bergen, and no weight gain. Stow in under your top flap, so it's easily retrievable, makes a comfy seat. Also keep a small folded bit of kip mat handy, about twice the size of an A4 sheet of paper, tucked in your Bergen somewhere to hand, it weighs nothing, use it to stand on when you're changing into your wet/dry kit, sit on it. Mark out on your kip mat the outline of a neck brace and sam splint, so that you can cut it out with your leather man, it's not as good as the real thing, but it's a good alternative.
Man down drill
COOKING IN THE FIELD
Chose one that doesn't hiss, the advantage of gas is that you can modify it, so that it won't give off too much light, gas doesn't work so well when it's really cold.
Jet boilers
are very good, expensive but need to be looked after, if you have it in your side pouch and your Bergen and it gets slung off a four tonner (it won't bounce!!).
KNIVES AND BLADES
Be sensible when spending your own money they are expensive you only need a basic knife, a lightweight
Leatherman
type is ideal, keep it oiled and rust free. A folding saw is also a good buy, don't forget that knives do break in the cold, and of course be very careful when handling knives.
GOLOKS AND PARANGS
Used for clearing scrub and undergrowth, they come with a lanyard to attach to your wrist. This is not for show. If you trip your natural instinct is to grip with your hand and if you fall on it, you will run the length of the blade along the inside of your four fingers to the bone. Don't let it happen to you.
HARD ROUTINE
When you are close to the enemy, or in an area where it's not possible to cook (the sounds, smells and light of cooking carries far and can give you away) cold food is better than nothing, some people can't keep cold food down, it's better to find this out in training. You can warm boil in the bags up a bit by keeping them next to your skin, either when your in your bag or tabbing. If you're vehicle borne utilise the heat from the engine block, lift the bonnet as soon as you stop, but be mindful of where you place them, and don't burn your hands. By the same token you can also keep water cool, if your bergen strapped to the side of your wagon by wrapping it in a damp cloth, the wind will cool it down.
EAT BEFORE YOU FIGHT
Soldiers in the Arctic eat before a march, it's an essential drill for working and fighting in the extreme cold, this is a good maxim to observe when training, or on operations anywhere. Don't see food as a reward or a carrot after exertion, it's putting fuel in the tank and should be done before you set out on a task. Keeping a little bag of pre-broken up food in your smock pocket (in a non-rustling bag) will mean you can dip into it in lulls in play, keeping yourself fuelled up and ready for the "GO".
Mosquito
repellent
and
mosi head nets
, are an absolute must, like spoons keep one in your pocket and a spare one in your belt kit. They weigh nothing but anyone who has spent a sleepless night getting eaten alive and driven mad by midgies will agree that they are worth their weight in gold (the head nets not the midgies). That just about wraps up this section, you guys are always coming up with novel ways to make life easier in the field, so if you have any bright ideas that you've come up with then email them to us, and we can hopefully include them and pass on best practice.
The Ideal Soldiers Kit List For Fieldcraft
2019-07-30 15:17:47