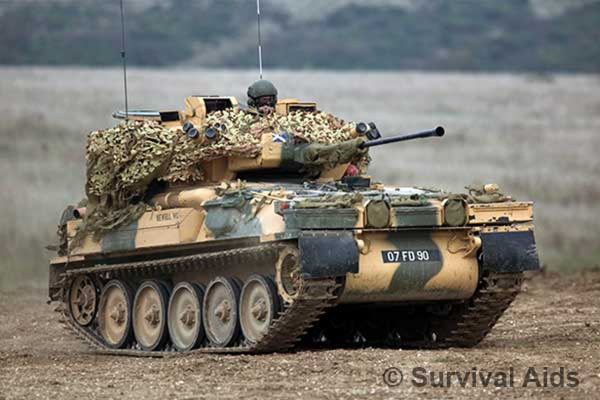 17 most commonly used British Army vehicles
Vehicles with enhanced armour are much more commonplace now with the increased threat from roadside IED and are likely to remain a feature of soldiers lives for the foreseeable future. Here a number of the commonly used vehicles.
COYOTE TSV
The Coyote tactical support vehicle is a 6x6 version of the Jackal 2 designed to provide combat logistics support to it's more agile brother and transportation of 1.5 tonnes of supplies and equipment over similar terrain. It can greatly enhance the range and endurance of a patrol. Not only carrying food, fuel and ammunition, but also spare parts, tyres for wear and tear repairs in rugged terrain.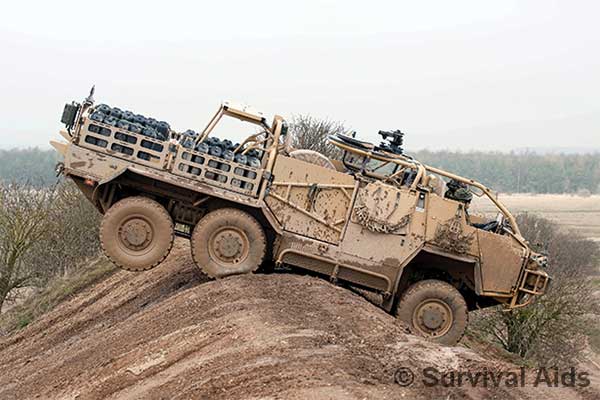 The Coyote has many of the same features as Jackal 2, with similar protection systems, armament and propulsion, it has space for an extra crew member, and two extra wheels making the vehicle heavier approaching 10.3 tonnes it will act in support of the Jackal 2 and allow transportation of supplies and equipment over similar terrain.
JACKAL 2 MWMIK
Jackal 2 is a highly mobile 4x4 wheel weapons platform, capable of speeds of up to 80 miles per hour on the road, and 55 mph off road. It was designed and built by Supacat in response to a specific request from the Army for a replacement for the Land Rover WMIK.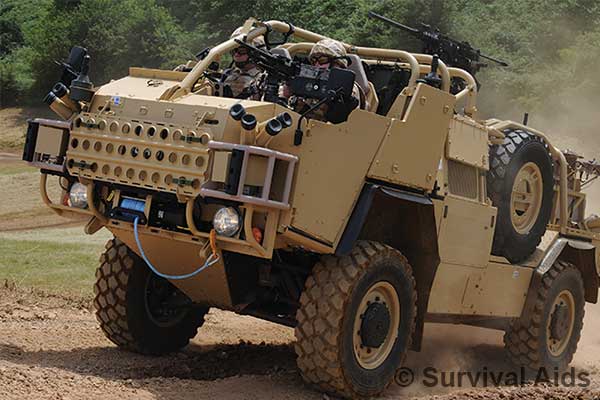 The Land Rover WMIK had served the Army well for years, but with the proliferation of roadside IEDs the old vehicles offered poor protection to the crew (floor and side panel ballistic matting) and there was an urgent need for an agile, well-armed, light patrol vehicle.
As well as bergens, belt order, and the crews' personal weapons Jackal 2 is armed with a GPMG operated from the commanders seat on a swinging arm, and can operate with either Heavy Machine Gun (HMG) or Grenade Machine Gun (GMG) on the ring mount.
The top ring mount that the Heavy weapon sits on, has been moved forward to give a 360º arc, an improvement on Jackal 1.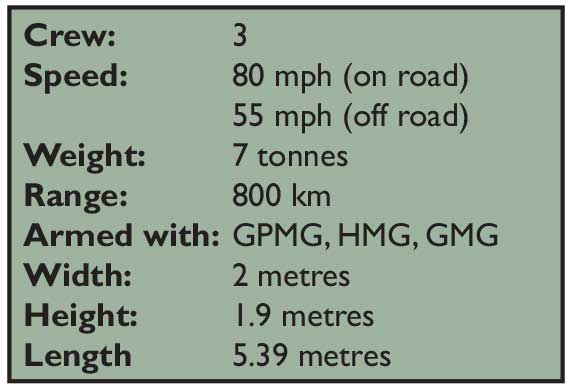 The vehicles suspension (which has 3 settings) can rise to an impressive 1 metre ground clearance, allowing it to clear large obstacles, it provides a higher and more stable firing platform for the heavy weapons. This high level of mobility enables the commanders to avoid more conventional routes, avoid setting patterns and protect themselves from ambush.
Armour plating beneath the crew compartment, as well as on the sides protects personnel against roadside explosions and mine attacks.
Used for reconnaissance, rapid assault, fire support and convoy protection.
HUSKY TSV
is a highly mobile, protected support vehicle, providing commanders with an armoured, mobile and flexible load carrying vehicle, there are currently three Husky variants 1: Command Post 2: Utility and 3: Ambulance.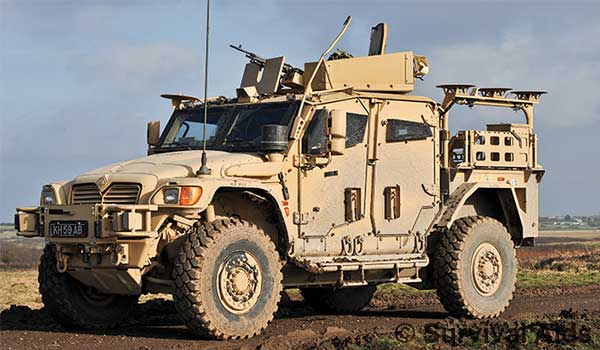 The Husky is a variant of the American MXT-MVA (Military Extreme Truck - Military Version) modified to the UK MoD's requirements, it will carry out resupply (food, water and ammunition) and support where heavier vehicles such as Mastiff and Wolfhound can't get to.
Capable of carrying a crew of 4, commander and driver plus 2, it is thought that Husky will eventually replace Land Rover, Pinzgauer and the RB44.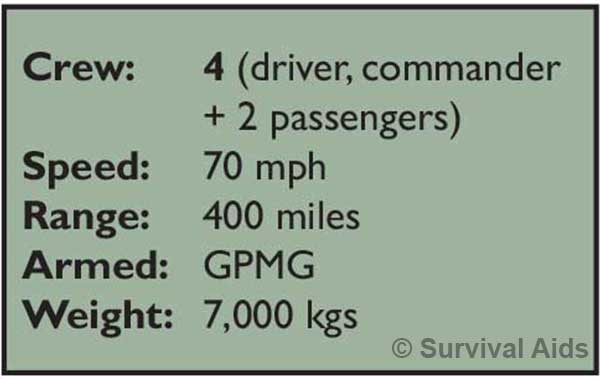 Two removable armour kits are available, Husky also has a 'V' shaped undercarriage designed to protect the driver by deflecting blasts away from the underside of the vehicle. In addition the vehicle cockpit is fitted with armoured steel and ballistic windows. Self protection is provided by a General Purpose Machine Gun (GPMG) with a remote controlled weapon system and door and glass firing ports available if needed.
FOXHOUND LPPV
is at the cutting edge of protected patrol vehicle technology, providing unprecedented levels of blast protection for its size and weight. Featuring blast survivability close to that of a Mastiff - and just a little bigger than the Snatch Land Rover it replaces – the Foxhound is ideally suited for manoeuvring around the narrow backstreets of towns and villages.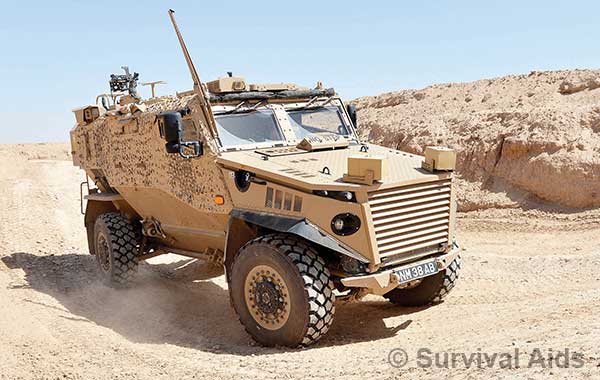 Weighing in at six tones, it has a top speed of 70mph and can do 0-50mph in just 19 seconds.
Four-wheel steering makes it extra agile, with a 40ft turning circle.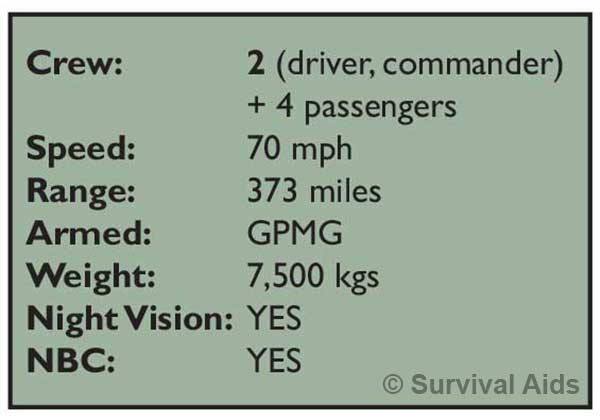 RIDGEBACK
Ridgback is a 4x4-wheel drive protected patrol vehicle based on the US Cougar platform. It also shares a high degree of commonality with Mastiff, its big brother.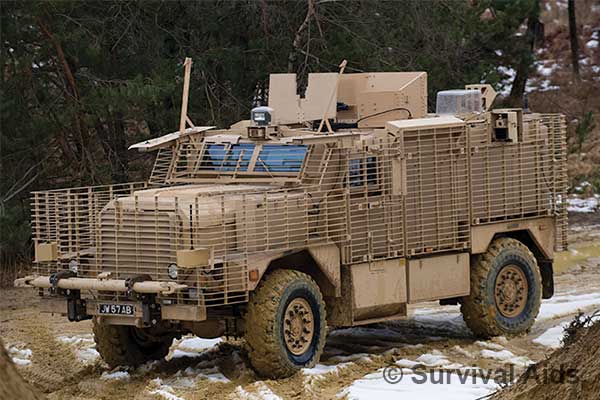 Ridgback first deployed on operations in the summer of 2009 and provides protected mobility in urban and urban-fringe environments.
Ridgback comes in three variants: battlefield ambulance, command variant and troop carrying vehicles. Ridgback troop carrying vehicles are equipped with either a protected weapon station or a remote weapon station, and can mount a 7.62mm general purpose machine gun, 12.7mm heavy machine gun or 40mm automatic grenade launcher. Ridgback is fitted with BOWMAN communications equipment and force protection counter measures equipment.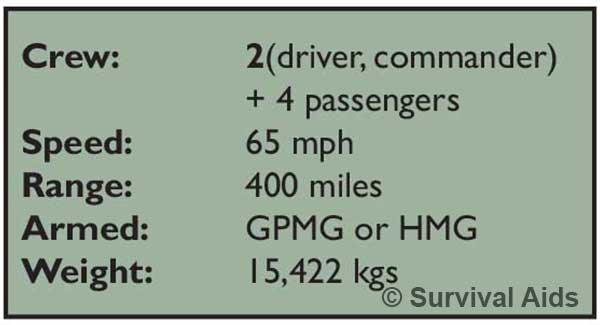 In the summer of 2013, the Army decided to bring Ridgback into the core equipment programme for use in the Army 2020 force structure within the infantry and cavalry units. The Ridgback fleet is being reconditioned after its service in Afghanistan and some are being converted from one variant to another to meet their new roles supporting the Army 2020 transformation and on future contingent operations.
PANTHER COMMAND AND LIAISON VEHICLE (CLV)
is due to replace vehicles such as CVRT, 432, Saxon and Land Rover (TUM)
Weighing 7 tonnes, Panther is air transportable and can be underslung beneath a CH47.
Panther is armed with a 7.62 mm GPMG equipped Remote Weapon Station, but this can be upgraded to an HMG or GMG weapon if required.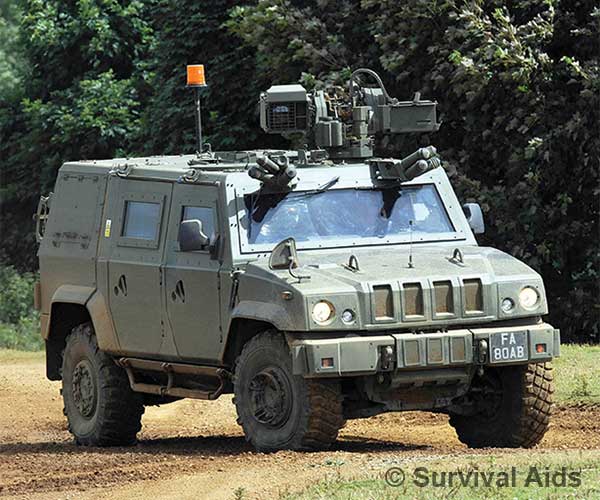 Panther will act as a Command vehicle for Sergeant Majors, Liaison Officers, Armoured Recce, Armoured Infantry Units, as well as Engineer Troops, AntiTank, Mortar and supporting fire platoons.
It is fitted with run-flat tyres, it has a V shaped hull, which will go some way to deflect and absorb mine blasts.
The armour protection can be upgraded with armour packs within the vehicle's external skin. The basic add-on armour pack provides ballistic protection against small arms fire and a heavier kit provides protection against ambush including mines.
SPARTAN
Spartan is a small Armoured Personnel Carrier used to carry headquarters groups recce teams, air defence sections and mortar fire controllers it is usually armed with a single GPMG.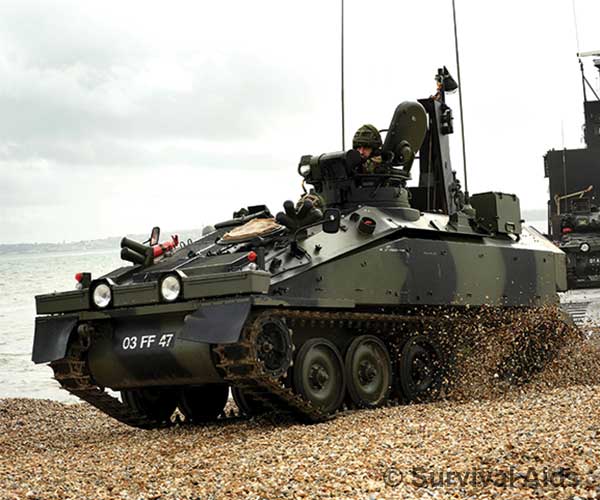 It was developed as the APC variant of the Combat Vehicle Recce (Tracked) family. An anti-tank variant is armed with MILAN anti-tank missiles. Spartan has been in service since 1978, they are now being replaced by newer vehicles.
In addition to the APC role, it has also been used as a resupplying vehicle to the FV102 Striker, carrying extra Swingfire missiles.
An anti-tank variant of the FV103 was produced, named FV120 Spartan MCT (Spartan with MILAN Compact Turret). The FV120 has a two-man turret, and is equipped with 2 MILAN Anti-Tank Light Infantry Missiles in launch positions, while 11 more can be carried internally However, these were being replaced by mid-2009 with Panther Command and Liaison Vehicles.
SCIMITAR CVR(T)
Scimitar is an armoured recce vehicle (sometimes called a light tank) its main armament is a 30 mm L21 RARDEN cannon, and is equipped with a GPMG, and two 4 barrel smoke launchers.
It is used by reconnaissance regiments of the Royal Armoured Corps and 'recce' elements of the armoured infantry.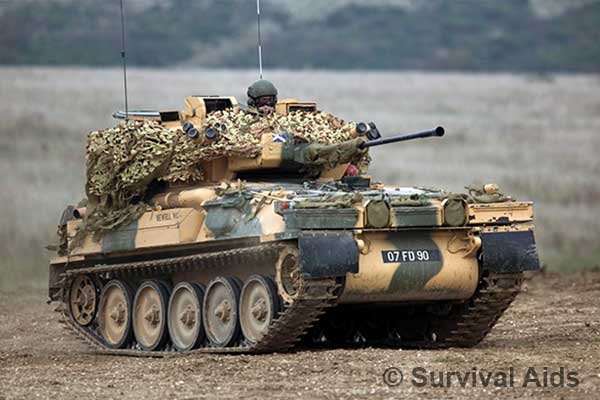 Ongoing modifications, hull alterations, new air filtration units and gearbox upgrades, should see Scimitar continuing in sevice til 2017. It is equipped with a forced air system, so the crew can lock down in a CBRN environment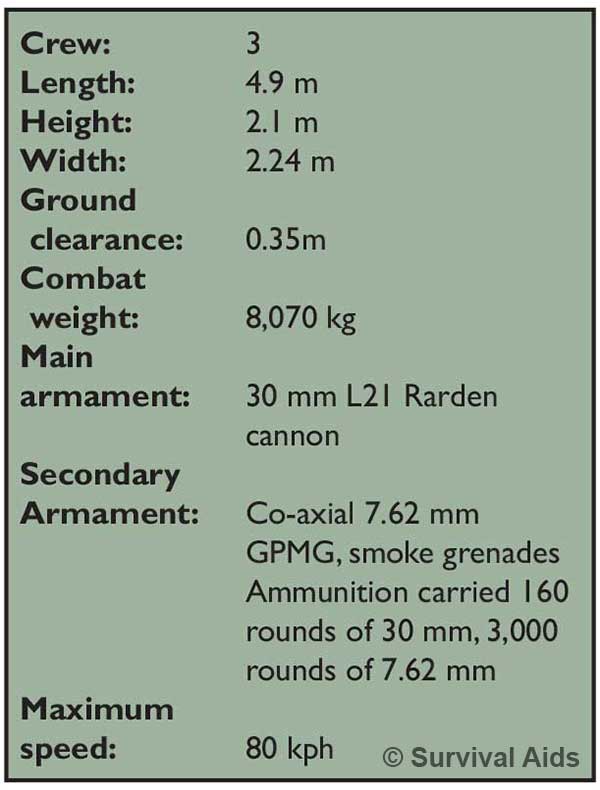 Their light weight and low ground pressure gives them excellent manoeuvrability even in the boggiest terrain. During the Falklands War, Scimitars engaged Argentine bunkers with 30 mm cannon fire, and provided good intelligence on enemy positions by using their night sights.
VECTOR
Vector is based on a 6 x 6 Pinzgauer chassis and is a Light Protected Patrol vehicle developed for 8-hour patrol missions over varying terrain.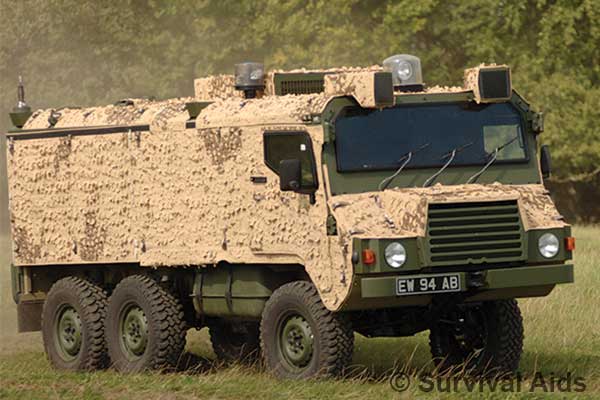 Used as a command vehicle and troop carrier for both urban and rural patrolling, it can mount two GPMGs on the roof using Platt Mounts for mobile fire support.
The Vector armoured model, provides some protection from small arms fire and roadside bombs, mainly from the Kevlar floor and the bullet proof glass, it's equipped with run flat tyres, Vector also has a bespoke ambulance variant..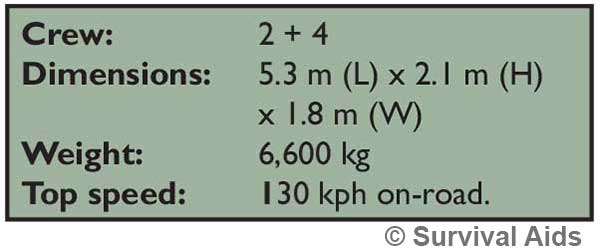 The armoured hull will provide a protection up to and including the 7.62 standard ammunition, grenades and the 155mm overhead bursts. Its 120/145 litres fuel tank is likely to have a range of almost 800 km and this possible range can be extended to up 3,000 km with some further fuel tanks.
MASTIFF
Mastiff is an armoured, wheeled, 6 x 6 troop carrying vehicle, used for road patrols and convoys. It carries eight troops, plus two crew. Mastiff presents a much less threatening profile than tracked vehicles.
Mastiff can be rolled as communications, command and control, recovery vehicle, ambulance and artillery mover, it can transport equipment, such as bomb disposal robots. It is custom built to ferry infantry troops around danger zones.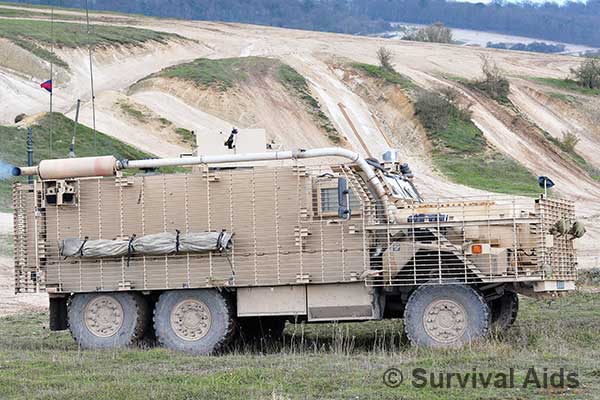 Mastiff is fitted with fold up seats with armour made of Dyneema Unidirectional (UD) lightweight material, improving protection from mines, small arms fire or explosions. It has a V-shaped hull to help disperse explosive energy and shock- mounted seating.
It can be fitted with either GPMG, HMG or GMG and has a remote weapons system, with a joystick and a camera provided to the operator.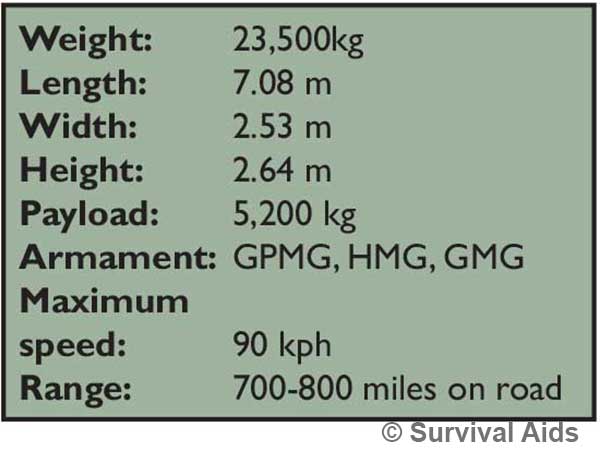 Amongst the other features of Mastiff are Bowman radios, electronic countermeasures, large vertical armour plates and thermal imaging capability for the driver.
WOLFHOUND TSV
is a six-wheeled variant of the acclaimed Mastiff, which will give troops increased protection as they support missions in high-threat areas.
Wolfhound will provide a highly protected load-carrying vehicle to carry out a variety of tasks such as moving bulky stores for use in the construction of forward bases; as a gun tractor and gun limber for the Royal Artillery's 105 light gun and finally to carry general stores like ammunition, food or water.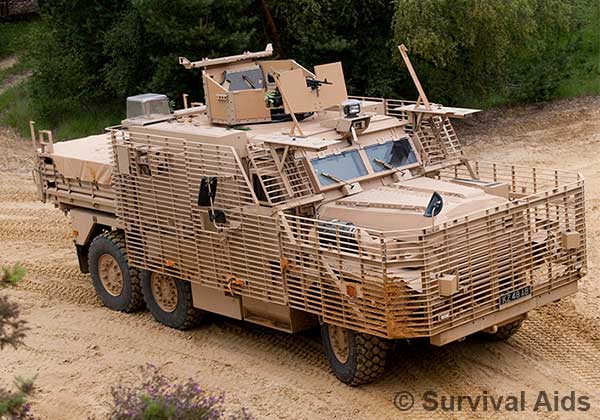 Wolfhound will be armed with a 7.62 GPMG self-defence weapon and the normal fit of radio and electronic equipment. It also can be armed with 5.56mm L110A1 MINIMI MG OR 40mm Grenade Machine Gun (GMG).
Its commonality of design will ensure that the support solution is already in place and that the training bill for troops using the fleet is minimised.
WARTHOG ALL TERRAIN VEHICLE (PROTECTED) ATV(P)
100 Bronco vehicles have been bought by the MoD and upgraded in the UK by Thales, and renamed "Warthog", improved armour, to counter the IED threat, counter measures and a comms fit are part of the MoD's specifications.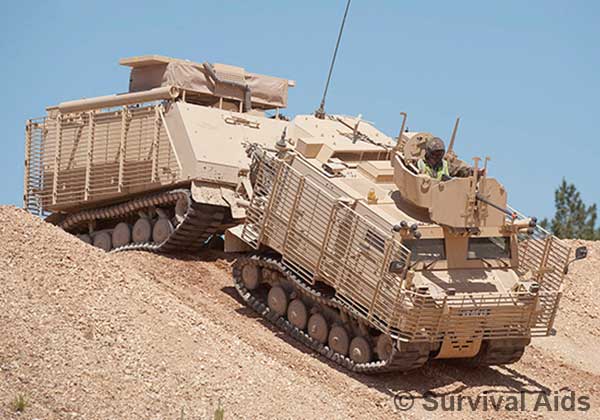 Warthog can carry 5 tonnes of equipment or up to 12 fully kitted out troops, there are four variants - a troop carrier, an ambulance, a command vehicle and a repair/ recovery vehicle. Warthog's repair and recovery variant is fitted with a crane and winch, capable of towing another Warthog.
Warthog is a more powerful and better protected Viking which it replaces, it can move through water offering advanced armoured protection, the highly agile, all-terrain vehicle will be able to climb steep gradients, cling to severe slopes, tackle vertical obstacles and roll across trenches.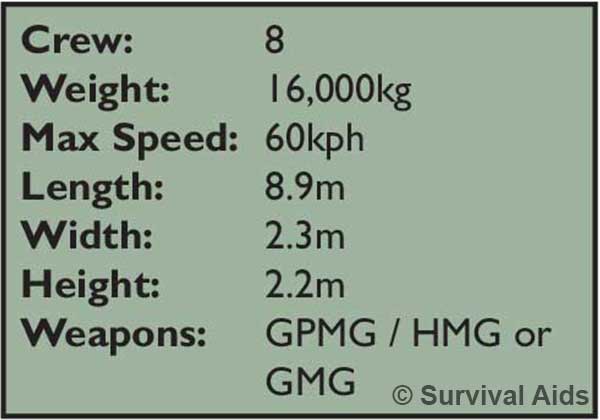 An adaptable protected gun mount means that the vehicle commander can choose between the GPMG / HMG or GMG, so he can tailor his weaponry to the mission. Warthog can take RPG hits, machine-gun fire and offer better protection from IEDs.
VIKING BVS10 ALL TERRAIN VEHICLE (PROTECTED) ATV(P)
The Viking is the third generation of articulated vehicles produced by BAE Systems Hagglunds of Sweden.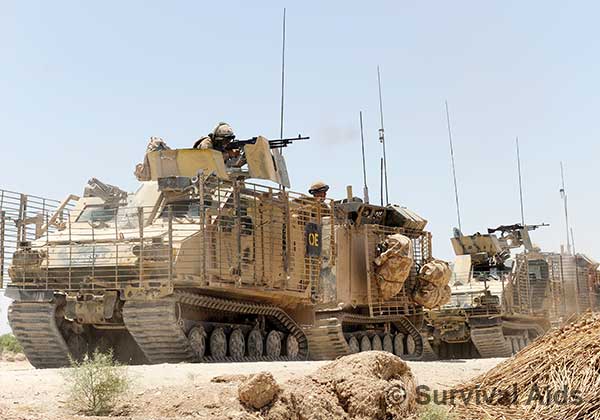 The Viking is a follow-on from the BV202 and the BV206. BV stands for 'Bandvagen' in Swedish which means that it is driven via rubber tracks. Viking is an amphibious vehicle deployed via landing craft from ship, and is also fully air transportable by C130 Hercules or underslung by Chinook.
Viking (BvS10) consists of two tracked vehicle units linked by a steering mechanism. The UK Ministry of Defence initially ordered 108 Vikings from BAE Systems, Land Systems Hagglunds (formerly Alvis Hagglunds), in three variants – Troop Carrier (TCV), Command Vehicle (CV) and repair Recovery Vehicle (RCV). In 2007 and 2008 additional orders were made for 21 and 14 vehicles respectively.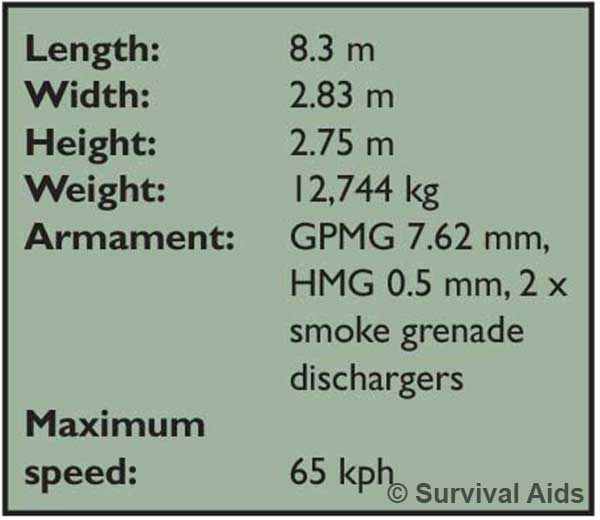 The UK currently operates three variants of the vehicle: The Troop Carrying Variant (TCV) capable of carrying 2 crew plus 10 passengers; the Command Variant (CV), which carries 2 crew plus up to 8 passengers with the rear cab being designed as an enhanced digital communications platform and the Repair and Recovery Variant (RRV), carrying 4 specialist maintenance vehicle mechanic crewmen. The rear cab of the RRV carries a HIAB crane, a full mobile workshop, an air compressor and a 9 tonne capacity capstan winch, together with hydraulic anchors. All are fully air-portable under a Chinook helicopter.
WARRIOR (WR AIFV)
Warrior is an Armoured Infantry Fighting Vehicle (AIFV) in service with UK Armoured Infantry Battalions, it has the speed to keep up with British MBT over difficult terrain, and the firepower and protection to support infantry in the assault. Armed with the 30 mm Rarden cannon, and 7.62 chain gun (both of which can be used against enemy helicopters)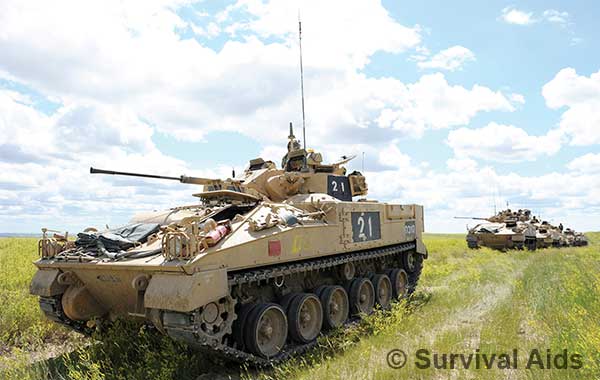 WR can destroy enemy APCs at ranges of up to 1,500 m and carries a crew of three and seven dismounted infantry, delivering them close to enemy positions.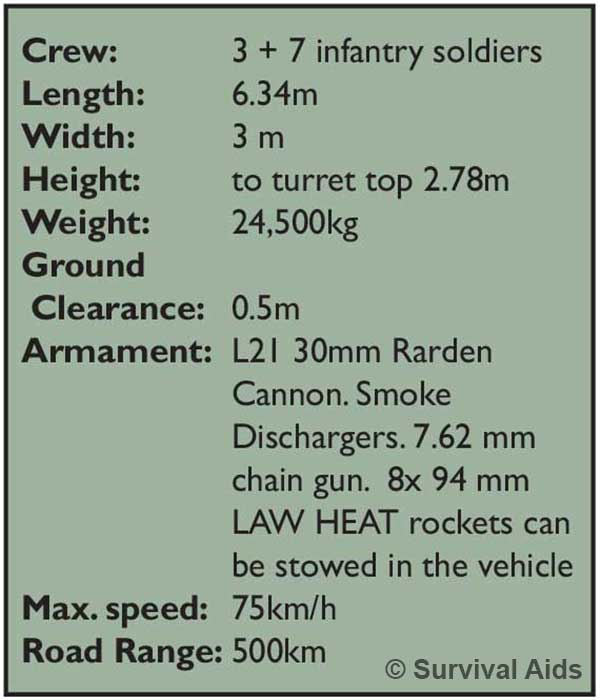 Warrior variants enable support elements such as RA and REME to operate effectively within the Battlegroup. The vehicle is CBRN proof, has and a full range of night vision equipment. Variants include Warrior Basic, REME Recovery and Repair. Artillery Observation Post Vehicle (OPV) command post vehicle (CPV) All variants are equipped with both chain gun and Rarden cannon.
BULLDOG FV430
Mechanised Infantry use the Bulldog APC as protected mobility (similar level of protection to Warrior and the vehicle is able to carry out many of the same tasks as Warrior) to move around the battlefield. Bulldog offers protection against small arms and artillery fire and provides good strategic and crosscountry mobility.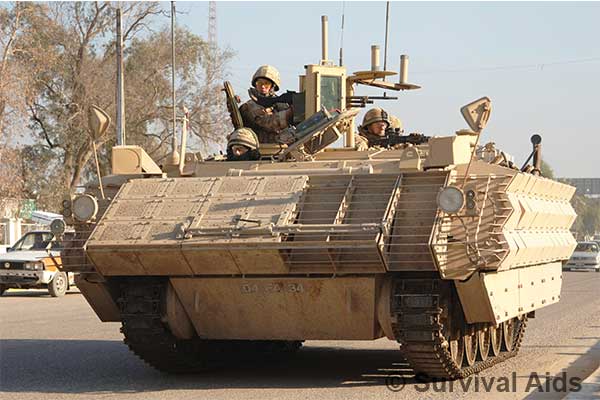 The FV432 can be converted for swimming, where it has a water speed of 6km/h. Properly maintained, it is a rugged and reliable vehicle with a good cross country performance.
FV 430 were supposed to have been replaced by Warrior and Scimitar, but thanks to upgrades are still with us, variants remain in service with the Infantry as command vehicles, 81mm mortar carriers, ambulances and recovery vehicles.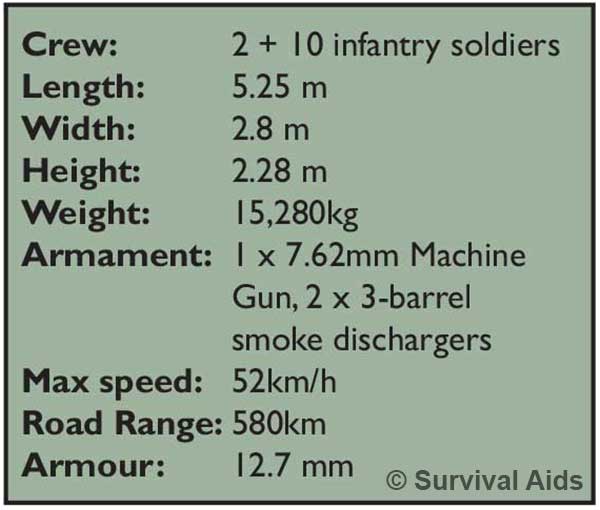 The improvements take the form of an engine upgrade, new steering unit, and new braking system as well as improving armour protection to a level similar to that of the Warrior.
STORMER
The Alvis Stormer is a modern military armoured vehicle, a member of the CVRT family of vehicles that includes Scorpion, Scimitar and Spartan, it is a larger version with an extra road-wheel.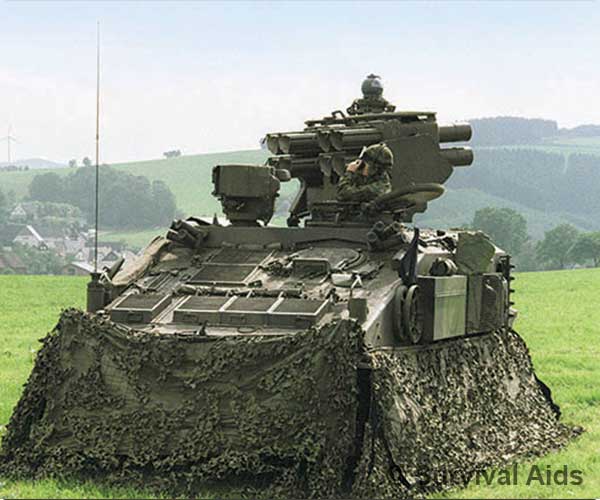 Stormer acts as a mobile platform for the Starstreak Missile system providing protection and mobility with eight ready to fire missiles and a further nine stowed inside.
It can be fitted with a two person turret, other variants include Engineer vehicle, REME Recovery vehicle, Ambulance, MFC, Command and control vehicle.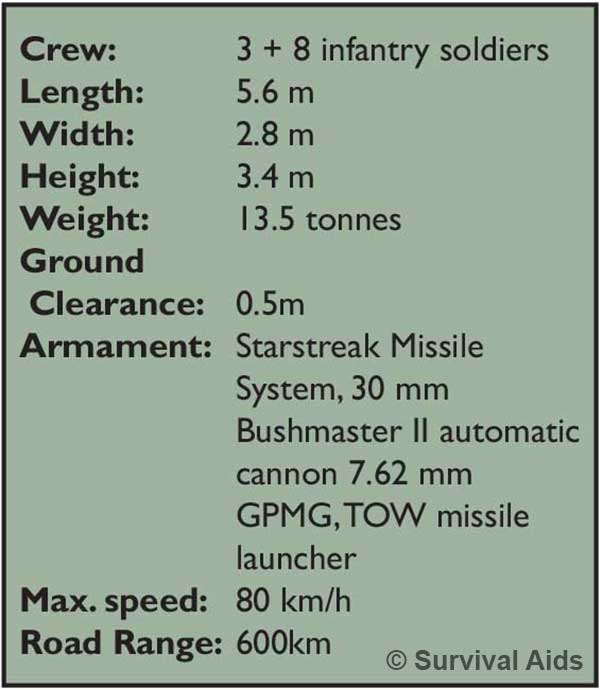 LANDROVER RWMIK
Land Rover RWMIK is not actually the name of the vehicle but it refers to the Revised Weapons Mounted Installation Kit. A framework upon which the ring mount sits which supports the heavy weapon, however the vehicle is generally known as the WMIK.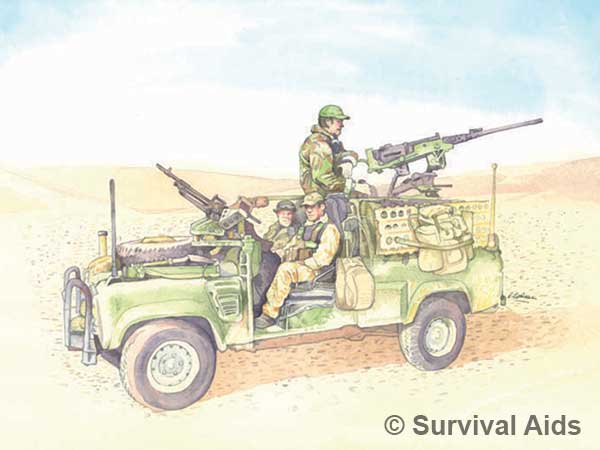 RWMIK is slowly being replaced by the TSV group of armoured vehicles but is still widely used. Built on the old reliable Land Rover chassis it lacks inbuilt ballistic protection, it can be fitted with ballistic matting on the floor and behind the seats but it offers little real protection.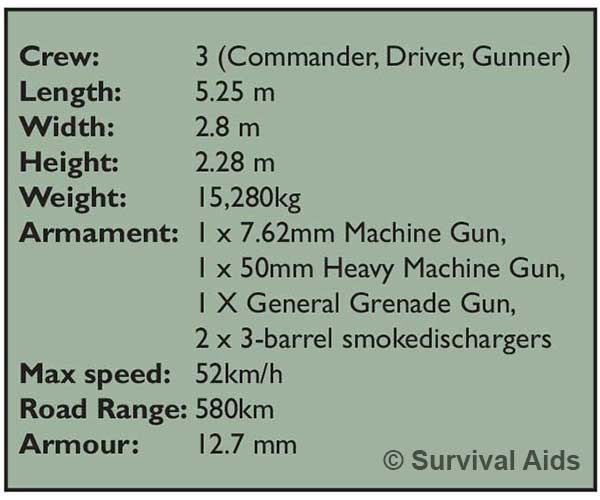 RWMIK's real advantage is the field of view afforded by the open top, and it's durability and mobility over hard ground and long distances, it can carry additional Jerry cans of fuel to extend the range, sand tracks are strapped to the side for extraction from deep sand and mud. An experienced and hardy RWMIK crew can push the vehicle to real feats of endurance.